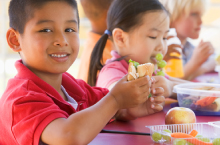 Help us feed those children in need.
What happens when school lets out?
Hunger is one of the most severe roadblocks to the learning process.  Lack of nutrition may set up a cycle of poor performance.  Hunger also may make children more prone to illness and other health issues.  The Bag Pack Program is designed to fill that nutrition gap and make sure children can get the nutritious meals they need.
Help us feed those children in need. The average cost per child is $10.00 per week. The supplemental food will be provided to school children at local elementary schools whose homes are considered to be food insecure. The children who receive the supplemental food are enrolled in the Free and Reduced Lunch Program and will be given an allotment of food each Friday to ensure they have food to eat while at home for the weekend.
Last year we provided 145 Bag Packs per week. Our Goal for the 2020-2021 school year is to Provide 155 Bag Packs per week but we cannot do it without your help. You can donate online by clicking the "Make a Difference Donate" Button above. Please indicate that your donation is for the Bag Pack Feeding Program or you can send a check to:
Sharing Center of Central Brevard
Children's Feeding Program
P.O. Box 3363
Cocoa, FL 32924-3363
100% of the funds raised will be used to support this feeding program.
---